5 tags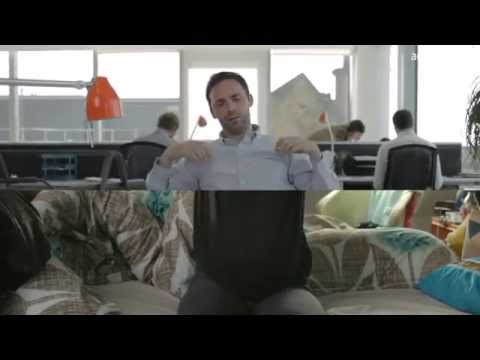 13 tags
An Open Note to Brand Managers and Advertisers on...
The mobile ecosystem has evolved over the past three years, so why hasn't your mobile strategy? Three years ago less than 31% of wireless subscribers in the US owned a smartphone, the iPad was just introduced (and most people dismissed the product, suggesting it was nothing more than a large iPod Touch) and most brands were just experimenting with mobile, making their (desktop-oriented) digital...
14 tags
Remember When…
We wanted to "log-onto" the internet using AOL or Prodigy, and we'd sit there in front of our computers just hoping and praying for the "lightning bolt" and space-age noises to connect us with the world wide web and all of the wonders it had to offer (kinda like the gif below, except this one came years later). If you owned a Motorola StarTac, you had the latest in cellular technology and the...
2 tags
Facebook Home — Mobile Meets Social & Goes... →
Great post on my other blog about #FacebookHome
7 tags
AR: Where Do We Go From Here?
AR (augmented reality) has been touted as one of the next big things in mobile/tech for the past two years, yet in-spite of marketers' valiant efforts with inspiring one-off "successful" campaigns, AR has failed to realize its potential. For those unfamiliar with AR, it is a live direct (or indirect) view of the physical world with  elements of digital information augmented atop that view. These...
11 tags
Is Blackberry the Next Big Comeback Story?
RIM's Blackberry's mobile computing paradigm shift is enough to keep it in contention for the #3 mobile OS (operating system) spot, but will be hard-pressed to convince many former loyalists that defected to the competition to switch back. Make no mistake about it — Blackberry's launch announcement of the new BB10 OS on Wednesday was monumental! After almost a whole year of delay...
22 tags
#Instagradvertising
On the heels of Facebook's acquisition of the increasingly popular photo-sharing service Instagram, Insta-CEO Kevin Systrom is being called-upon for the inevitable challenge; deciding how to monetize the growing fledgeling platform. While Systrom hasn't announced any official plans yet, this decision could make-or-break the product. As is the case with every new technology that is initially built...
8 tags
Making Intranets More Efficient Through Mobile
Today I read a fantastic post by Jakob Nielsen called Intranet Users Stuck at Low Productivity, depicting the latest productivity data on intranet users from a three part study, essentially concluding that productivity for intranet users has decreased in the last ten years. The post goes on to outline the compound inefficiencies created by the problem in the enterprise environment, where the...
4 tags
"Your brand is what other people are saying about you when you're not..."
19 tags
Is the App Discoverability Problem Really a...
In the last two years the concept of an app discoverability problem has surfaced. The notion is, there are so many mobile applications in each app store it has become nearly impossible for most developers to make their app's stand out and be downloaded. The next and even bigger problem most successful developers face is, once their app is downloaded, how can they get users to engage with the app...
10 tags
Mobile is Quickly Becoming the First Screen
Over the past decade, I've watched and helped mobile entirely transform our lives as we know it. Mobile devices went from making us reachable by voice at any time to making the information we want accessible at anytime, and as mobile networks and mobile advertising evolve alongside mobile devices, they're quickly moving from our third choice to our first for news, entertainment, content creation...
17 tags
The App Revolution: Where Do We Go from Here?
There are over 600,000 apps available for download in Apple's app store, and their owners are all vying for your attention and regular use. A year or two ago you were probably a little app crazy and a big part of your mobile experience was to seek-out new apps on a regular basis. The apps with the best UXs (user experiences) and functionality appealed most to you, and these days you're feeling...
22 tags
An Open Note to Brand Managers, Marketers and...
The mobile game has changed — get with the program! In-spite of what many people say and believe, our mobile devices (phones and tablets) are our primary devices. They are the first thing we see when we wake up, the last thing we look at before we go to sleep and they go everywhere with us. Most of us could deal without our computers, but few of us could deal without our mobile phones &...
21 tags
Which Smartphone is Right for You?
We are mobile, and mobile phones are arguably the most significant device we use on a daily level. By this point, most of you have been using your mobile phone for over a decade now, and as smartphones evolve, you feel your decision about which to use should as well, considering there are many viable options out there. So which device/mobile operating system (OS) is right for you and are there...
7 tags
16 tags
The Overlooked Missing Puzzle Piece in Today's... →
This is a fantastic post by Steve McKee on the importance of integration, the often overlooked "secret ingredient" in marketing that makes long-term campaigns effective and helps brands gain massive market-share. I agree with almost everything in Steve's Bloomberg post and would add that while maintaining brand consistency over the long haul is absolutely key, if a brand fails...
18 tags
Using Google Chrome for Mac Lion OSx &...
Although this post is somewhat unrelated to my general topic of conversation, I had this most annoying experience and wanted to help anyone who's experiencing this hair-pulling, computer-throwing, keyboard-smashing issue. Since the latest release of Google Chrome for Mac Lion OSx, if my Google Chrome browser was in full-screen mode and I clicked to open a popup, the popup would show up in...
24 tags
A Note to All Entrepreneurs and Startup Founders
In the rapidly evolving technology space it's often difficult to pin-down what the next big trend will be and how to plan for it.  Literally billions of dollars are being rewarded to those who can successfully predict and then create both software and hardware that is adopted by scores of millions of users, and most of the current generation's greatest minds are attracted-to and working-on this...
13 tags
The Mobile #UX Conundrum: Native App vs. Mobile... →
This is an excellent and well-written post by Jakob Nielsen about the native app vs. mobile web conundrum, and how current recommendations will shift in the future alongside technological advancements. If you're interested in mobile, this is fantastic post that provides a wonderfully intelligent perspective — enjoy!
4 tags
15 tags
AT&T Takes a Swipe at Google
Google announced GoogleTV in May of 2010 because the company realized the future of advertising would require a cross-platform approach.  Google knew that if they could gather internet, TV and mobile usage habits, they could build the most targeted ad network on the planet. Fast-forward to January of 2012; GoogleTV failed and in the interim, AT&T has been developing a home-brewed ad...
17 tags
Blackberry Wants You Back!
If you're still using a Blackberry (I know most of you bailed already ;-)), look out for some awesome updates!  The highlights are as follows: Mobile hotspot feature (connect up-to 5 WiFi enabled devices to your Blackberry, including your iPad and laptop!), and use your Blackberry's internet connection while on the go! Updated Universal Search - this feature is much better than the...
30 tags
The Top 7 Tech Trends that will Shape 2012
2011 was dominated by location-based ads and daily deals, fueled by the proliferation and increasing penetration-rates of smartphones (now said to be 38% penetration in the US, according to eMarketer).  In addition, mobile ad spending is finally expected to exceed $1B, marking a 65% increase over the previous year. 2012 promises to take true targeted advertising to the next level, and here are the...
12 tags
7 tags
24 tags
Thank You Foursquare!
When Foursquare (@foursquare) was created back in March 2009 by Dennis Crowley (@dens) and Naveen Selvadurai (@Naveen), it pioneered the checkin space.  I began using Foursquare about two years and 3,600 checkins ago, and initially had difficulty explaining to my non-technologically-inclined friends and family what value I perceived from the service.  Many wonderful articles have been written...
17 tags
Why Does this SmartPhone Manufacturer Make So Many...
Let me start this post by saying that I still have faith in the possibility that RIM could, once again, become relevant in today's overcrowded smartphone marketplace. I am one of the few BlackBerry loyalists (for work purposes only - I use an iPhone for almost everything else) who not only sports a BlackBerry smartphone, but a PlayBook tablet as well. About two months ago I was cited in a NewYork...
11 tags
2 tags
1 tag
4 tags
6 tags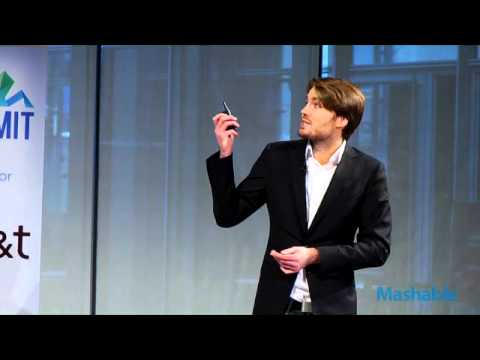 13 tags
Microsoft is Changing Everything, Again
Earlier this week I read (and reposted) a groundbreaking announcement about Microsoft's new Robotics Developer Studio (RDS) which is a platform that allows developers to harness the power of the Kinect system.   This announcement was buried in a week's-worth of tech news, and I don't think many people (including myself) gave it much credence.  After contemplating about it again this morning, I...
8 tags
3 tags
[INFOGRAPHIC] The Business of Halloween →
5 tags
6 tags
11 tags
"RIM Unveils an Upgrade, but Little Else" - I was... →
What do you think?  Is RIM just a big sinking ship, or is there something RIM's leaders can do to save the brand and/or product line?
Watch
Great video of Foursquare's Dennis Crowley telling the Web 2.0 crowd about competing with Google and Facebook
11 tags
A Note to All My PC-Loving Friends...
  Monday marked the beginning of a new chapter in my life.   After over twenty years of selecting the Windows operating system (OS) for all of my computing needs, I took the plunge and bought a Mac.   This post seems to overstate the importance of such a decision, however, for someone who spends 40+ hours-a-week using their computer, this decision was huge!   Growing-up I was one of the...
11 tags
RIM's Future & a NYTimes Blog Post That Cited Me
Yesterday I attended the BlackBerry DevCon Americas event in San Francisco, CA, and found myself in-conversation with a wonderful and charismatic NY Times tech journalist named Nick Bilton. We spoke about Blackberry's current predicament, its future and whether or not the brand really still has a chance to regain lost marketshare in the US.  Ultimately, the conversation resulted in the...
6 tags
Great post on tips for viral video success! →
Excellent post by @JeremyCampbell!
10 tags
Amazing & Free New Resource of Secondary Research... →
This [free] new resource from Google (click here to launch the site) allows anyone to extract data about mobile behavior (across the globe) that's been aggregated by Google, ipsos and the MMA (Mobile Marketing Association).  Enjoy!
15 tags
The [Near] Future of Fashion & Mobile →
The [Near] Future of Fashion & Mobile This past June I wrote a post called How Mobile is Fashion?.  As of the end of September, 2011, I still receive comments from you on how great the topic is, and I've also received various requests to expand on that post as technology evolves.  This post is a reaction to the requests I received, and I look forward to receiving your feedback below as...
5 tags
8 tags
3 tags
3 tags
9 tags
How Google+ Will Succeed and Why You'll Use it... →
Tom Anderson provides a brilliant argument explaining why Google+ is here to stay…a true must read from a visionary of our time!